If you are an artist and you are trying to sell your art, then, you are a small business. In order to grow and prosper, and create the space to make more art, you need to sell it, and sales come through marketing. There are lots of ways you can market your work: via advertising, websites, public relations, and word of mouth.
But increasingly, people are turning to social media for marketing their work. Social media sites like Facebook, Twitter, and YouTube have literally millions of users per day world wide, which is an exciting new market to explore. In addition, the cost of this kind of marketing is very low.
But learning the interface and the etiquette can be overwhelming. Furthermore, it's really easy to get lost in social media, and the return on your investment of time may not be what you'd hoped.
What you need is a plan.
Whether or not you are new to social media, The Guide to Getting Started with Social Media for Artists and Arts Organizations will help you to create a marketing plan using social media, based on the amount of time that you have to invest.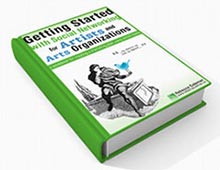 Testimonials
From Diane, Director, Desert Eagle Fine Art
I purchased your book sometime early last fall and I must tell you it has become dogeared, coffee stained and rumpled…..in other words it's the best work book I have found.  Thank you for it.
From Deb Pickman, Marketing & Communications Manager, UBC Department of Theatre & Film
Even if you feel you're accomplished at Social Media it can be a daunting task to explain to a co-worker how to get started, or to assess how effective you are with your own communications. I find this book is a great resource in order to to accomplish both of these things and more. Beyond getting started, the workbook pages give novice and experienced social media participants alike a valuable opportunity to commit to a specific strategy and schedule for each form of communication. Best of all Rebecca's experience and insights offer the tools you need to participate in Social Media with integrity and truly enjoy the exciting new opportunities that await you in this growing field.
From Mary Malinski, WalksWithin.com
Rebecca leads the way through the social networking maze with clear instructions and excellent explanations about why you should consider each different platform, and not just because everyone else is doing it. I've been playing around with social networking sites and establishing a presence for over a year, but Rebecca's step-by-step plan has given me some guidance on how to tweak (and tweet!) to build my business, and where to go from here. The title says it's for artists and arts organizations, and while I am definitely recommending it to my arts network, I will also be recommending it to other entrepreneurs to get them going in the right direction.
From Maryann Devine, smArts and Culture:
Here's what I really like about Rebecca's book:
She doesn't assume that you're a marketing expert. Before she tells you how to create your social media plan, she clues you in on some marketing basics. Like lots of other nonprofit cultural staffers, you may not be the marketing director, but you may still be charged with promoting arts programming. Rebecca gets this, and gives you a bit of a primer.
She doesn't assume you're a social media expert. After an overview of social networking, Rebecca takes you step-by-step through the process of setting up a blog, Facebook page, Twitter account, and more.
She doesn't leave you hanging when the book is through. Instead of just handing out advice and saying The End, Rebecca includes detailed worksheets that walk you through the process of social media planning, and instruct you on setting up and maintaining specific social networking channels.
If you:
Are an artist or administrate an Arts Organization
Have a small marketing budget
Have been considering getting into social networking, or have started, but feel like you need help
Then, this guide is for you!
Download the One-Sheet Here (pdf)
This 69-page recently-updated (October, 2011) Guide includes:
Basic Principles of Marketing:
Touchpoints
Niche
Branding
Your Story
Social Networking
Basic Principles
Creating a social networking marketing plan
Basics and etiquette:
E-Newsletters
Blogs
Bloggers
Facebook
Twitter
Linkedin
Photo Sharing (Flickr, Picassa, etc)
You Tube
A Glossary
A sample social media marketing plan
Fill-in-the-blank social marketing plan worksheets
All for just $19.95 (Canadian)!
I make my living as a theatre publicist, and I have been exploring the uses of social networking in marketing my theatre productions for two years, now. This guide brings together my knowledge as a marketer and my experience in social media. I don't think you'll find anything else out there that is like this guide it really helps you to create a marketing plan for your arts business using Facebook, Twitter, E-Newsletters, and other social media.
Tell you what–if you are not entirely happy with the e-book, I'll give you your money back. So that pretty much takes care of all the risks. What are you waiting for?
Book Options
Price
Buy
E-Book Only
$19.95
E-book plus 1/2 hr

consultation ($44.95 Value!)

$29.95
Hard Copy Workbook (from Biz Books)
$19.95